Welcome back to Lamon Reviews. A few days ago we had a spotlight for the childrens book, The Mirabal Sisters: From Caterpillars To Butterflies by Raynelda A. Calderon. I found myself down a rabbit hole looking for information on the sisters and came out with a few gems of information on the subject, as well as questions and other topics to look into, like the Parsley Massacre.
Another item I found out about the sisters, I thought was absolutely fitting, was that dictator Trujillo built a 137 ft obolisk for himself that is now dedicated in rememberance to the three Mirabal Sisters he had murdered. It has beautiful paintings of butterflies and the sisters painted on it and is an important historic minument in Santo Domingo today.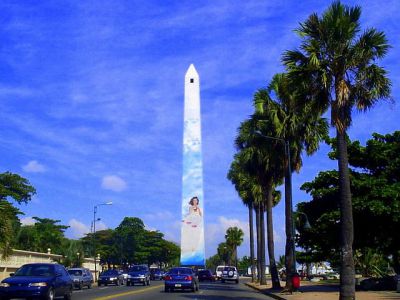 Mirabal Sistrers Obelisco, Santo Domingo
I got a few great comments and myself and one of our readers had not heard of the Mirabal sisters. Wanting to learn more about them, I searched the Stuff You Missed In History Class podcast archives to see if they had done an episode on them and they have. You can check it out below.
Stuff You Missed In History Class/ The Mirabal Sisters
There are a number of books about the Mirabal Sisters. Many books are on a more broad topic of womens histories and the Mirabal sisters were a topic in them, but here are some great books that include their contribution to a more fair and just world for everyone.
---
Books on The Mirabal Sisters
---
Movie on The Mirabal Sisters
---
Articles on The Mirabal Sisters
If you want to read and learn more about The Mirabal Sisters and how these brave women changed history for their country, here are a few articles to read.
The Mirabal Sisters — Wikipedia
The Mirabal Sisters on History.com
---
Now I'd like to hear from you.
I enjoy when I come across something that makes me interested in learning about history. I hope you find the articles on the Mirabal Sisters interesting and educating. I learned a great deal from the Stuff you missed in history class podcast. If you are interested you should check it out. Let me know what you think in the comments below.
And As Always…
Go forth, dear readers, support your favorite indie authors and encourage reading and literacy.
K. LaMon
Lamon Reviews
Stuff You Missed In History Class/ The Mirabal Sisters
The Maribal Sisters: From Caterpillars To Buterflies by Raynelda A. Calderon
The Mirabal Sisters on History.com